:Text may be subject to copyright.This blog does not claim copyright to any such text. Copyright remains with the original copyright holder.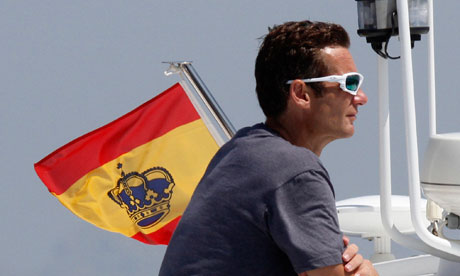 "His behaviour has not been exemplary," Spottorno told journalists who were summoned to the Zarzuela Palace in Madrid.
Headlines in the newspapers suggested that Urdangarin, a former handball player turned businessman, may have been a lot worse than "not exemplary". El País, for example, accused him of taking up to €300,000 (£253,000) from the regional government of the Balearic Islands to set up a "fictional" office to promote the activities of a cycling team sponsored by the region's government.
It was just one of dozens of leaks from an investigation into suspected misuse of millions of euros of public funds that were allegedly channelled into private companies through a non-profit foundation presided over by Urdangarin.
A full-page opinion piece in El Mundo, meanwhile, called on the courts to treat Urdangarin – whose royal status allows him to give evidence by writing instead of in person – in exactly the same fashion as any other Spaniard.
"The story is always the same," wrote the lawyer Elisa de la Nuez. "Public bodies hand over large sums of money with virtually no control to the foundation presided over by Mr Urdangarin on the basis of his person and family connections motived by the fact that to do business in Spain it is important who you know rather than what you know."
Urdangarin, who is not yet officially under investigation and has not been charged, broke several weeks of silence about the case on Sunday.
"Given the number of articles and comment pieces appearing in the media about my professional life, I wish to make clear that I deeply regret the serious harm being done to my family and the royal family, which have nothing whatsoever to do with my private activities," he said from his home in Washington.
He has previously declared his innocence and said he is sure he will clear his name.
Newspapers have, however, reported that prosecutors are convinced the investigating magistrate in charge of a corruption and fraud inquiry involving the regional governments of the Balearic Islands and Valencia will soon officially name him as a suspect in the case. Charges, if presented, would be decided at a later date.
His lawyer, Mario Pascual, said that the king's son-in-law was "worried, upset, indignant … and fully convinced of his innocence".
Spottorno said the royal palace would provide a breakdown of the way it spends the more than €8m it receives from Spanish taxpayers every year.
This would appear on the royal family's website within weeks. He did not, however, reveal how much detail would be given.